Pet Health Care Articles
Pet Obesity - A growing problem.
Pet Obesity and Awareness Day is coming...October 13!!

September 8, 2010
"Porkchop", "Chubby-Wubby", "Big Guy"….. If any of these are nicknames you call your pet because they carry some extra weight, you may have a more serious problem than you realize.
It is estimated that just over 50% of pet dogs and cats are overweight or obese. Overweight pets are prone to health problems including:
•Osteoarthritis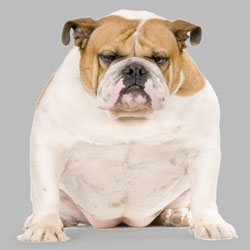 •Diabetes
•High Blood Pressure
•Heart and Respiratory Disease
•Cruciate Ligament Injury
•Kidney Disease
•Many Forms of Cancer
Can you guess who - not what - is the leading cause of our pet's weight problems? We are!! Dogs and cats like to eat; most are not programmed to stop when they feel full or know when enough is enough. It's up to us, as owners, to make those decisions for them. Do you think you know exactly how much food your pet gets in one day? Besides their regular dog food, consider the treats we give them; The Guilt Treats ~ When we leave for the day. The Reward Treats ~ When they do tricks and make us laugh. The Go Be a Good Dog Treats ~ When people come over and we try to otherwise occupy them. How about when we're cooking dinner or when the kids have cookies or popcorn… guess who's right there to be sure to get every last crumb. All those calories add up fast! And on top of the food and treats, in these days of busy schedules and family life, our pets often don't get the amount of exercise they need daily.
So what can we do?
The first step is to be committed to a healthy lifestyle for both you and your pet.
• Visit your veterinarian at least annually for a routine physical exam. Ask your vet about your pet's weight, body condition score, and for recommendations on keeping his or her weight at a good steady number.
• Measure your pet's food with a measuring cup daily. Know everything that's going into their bodies.
• Just like us, don't load them up with junk food! Most commercial treats are full of fillers and salt for flavor. It's like us having a cheeseburger for a snack everyday! Opt for more healthy options for treats. Ask for help choosing something at your local pet store or veterinary office.
• In moderation, use healthy "people" food for rewards, like baby carrots or green beans.
• Find other 'treats' to reward your pet. A great toy or even a flavor-infused Nylabone to chew on.
• Give you pet some exercise every day. Even a ten minute walk or a good game of fetch. Some small dogs can even get the necessary exercise needed inside the house by playing indoor fetch!

We at Town and Country Vet feel that your pet's weight is very important, and plays a key factor in their overall health. We are committed to helping you get your furry friend in tip-top shape.
Visit these websites for more information about pet obesity. You'll also find some great tools to help you start a pet weight loss program.
http://www.petobesityprevention.com/
http://www.projectpetslimdown.com/
As always, if you have any questions about your dogs or cats weight, food or overall health, please don't hesitate to contact our office at 860-645-1700.
And of course, you can always stop by to use our scale anytime, no appointment needed….